PRODUCT MANUFACTURE START DATE: 21 February 2022
The careful process of individually crafting your frame by hand was started by artisans on Monday 21st February, 2022.
PRODUCT MANUFACTURE END DATE: 18 March 2022
After more than 50 individual steps over the course of 20 business days, your handmade frame was completed on Friday 18th March, 2022.
OZEANO HQ QUALITY ASSURANCE CHECK: 4 April 2022
Your frames passed rigorous quality assurance checks by two members of our team on Monday 04th April, 2022.
LENSES FITTED: Polarised, anti-scratch, superhydrophobic
Your frames are fitted with market-leading polarised lenses, featuring an anti-scratch coating applied to the front and back, and a superhydrophobic layering to repel liquid.
MANUFACTURING LOCATION: Dongguan City, Guangdong Province, China
Your eyewear was carefully handmade in Ozeano's facility in Dongguan City. Our facility maintains the highest possible product quality, social and environmental standards, with ISO9001 certification for quality management, ISO14001 and ISCC certifications for environmental and sustainability performance, and SA8000 certification for social and human rights standards.
You are in advanced mode.
You can turn it off in left sidebar. To use advanced options, you will need to enter your own Google Maps API Key.
Get Google API Key
DISTRIBUTION LOCATION: Sydney, New South Wales, Australia
Your eyewear was distributed from Ozeano Headquarters located on the shores of Bondi Beach in Sydney, Australia.
You are in advanced mode.
You can turn it off in left sidebar. To use advanced options, you will need to enter your own Google Maps API Key.
Get Google API Key
Certificate of authenticity
All Ozeano eyewear comes complete with a certificate of authenticity, containing the unique product ID of your frames, and a date stamp of the certification.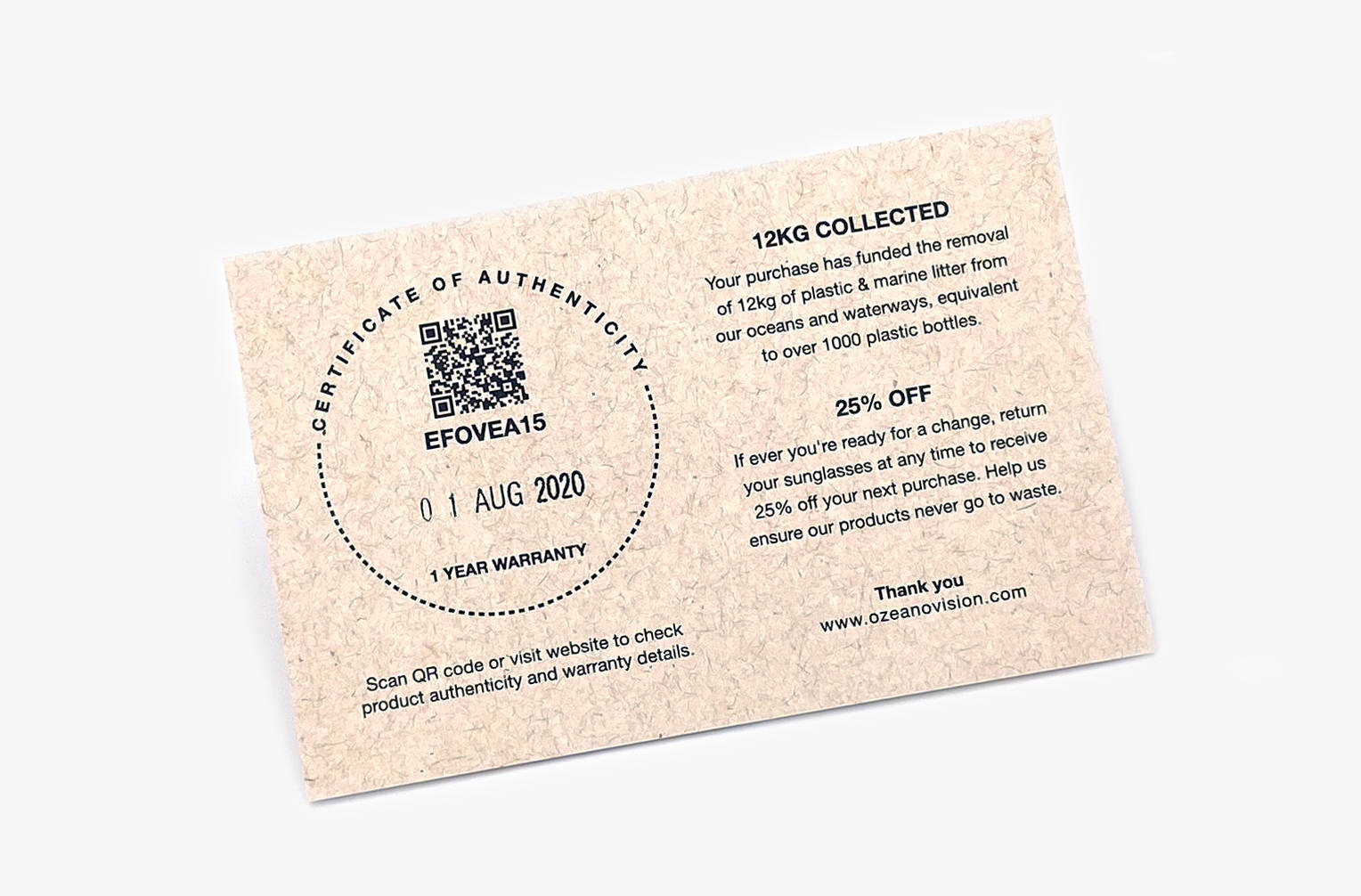 The unique 8-digit alphanumeric Product ID of your eyewear is also laser engraved on the inside of the left temple of you frames.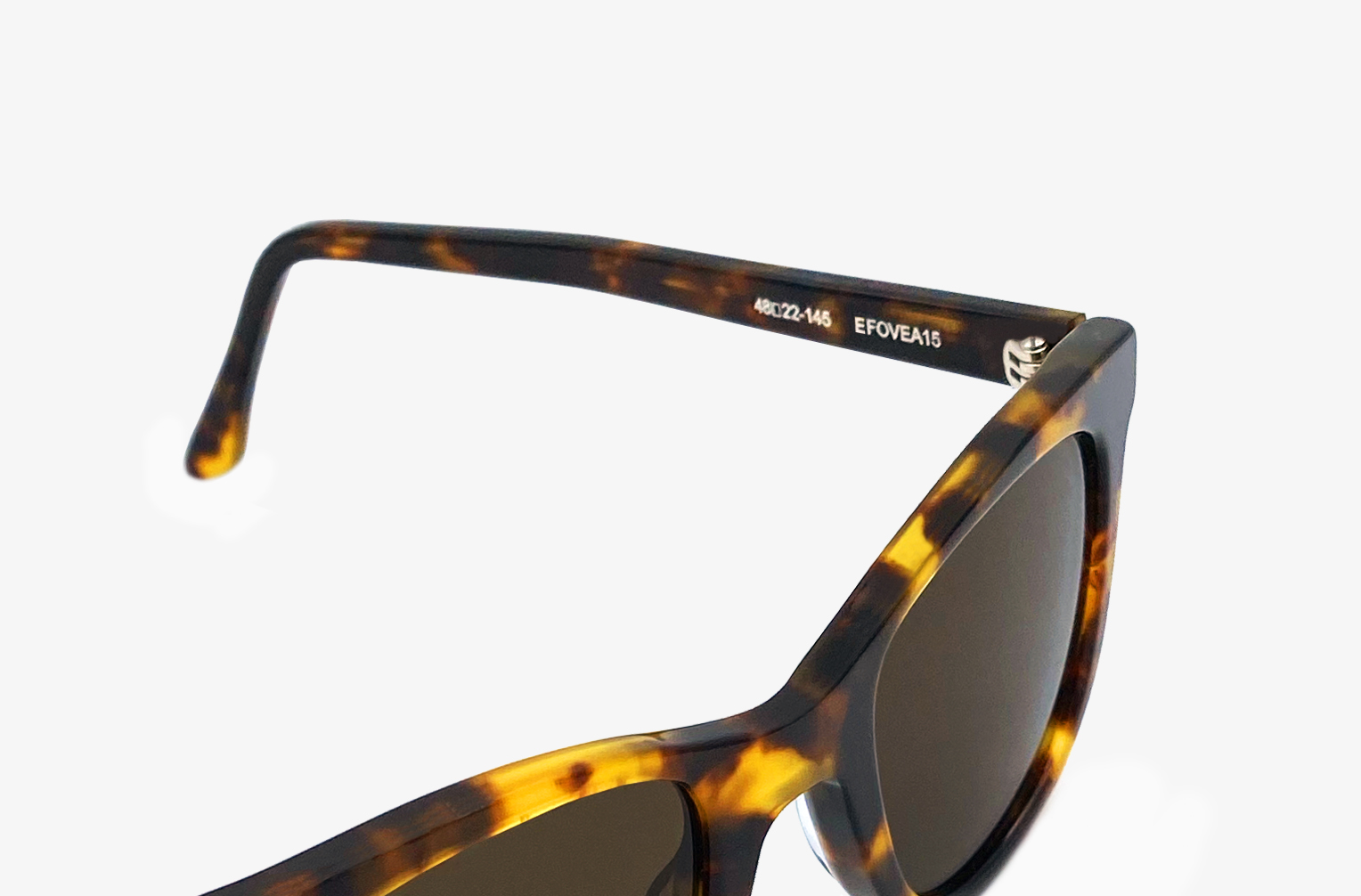 All Ozeano eyewear comes with a 1-year manufacturer's warranty from the invoice date / date of certification against any manufacturer's or material defects. We will replace or repair any purchased Ozeano eyewear where the product is faulty as a result of a manufacturing, material or fitting defect.
You must inform Ozeano of such defects within a reasonable period of time, and in any case, within one month of the date on which they are identified. Abused or mistreated eyewear, and general wear and tear, will not be covered under this warranty under any conditions. This warranty applies to frames and lenses sold by Ozeano. It does not apply to accessories that are provided by us for free with your purchase. Scratched lenses fall within normal wear and are not covered by the warranty, unless the lens issue is already present at the time of delivery. Lenses can, however, be replaced with our 'Lens replacement' offering.
For further information about the warranty, visit our terms and conditions, or contact customer support.
We offer one free replacement of our polarised and scratch-resistant lenses within 2 years of invoice date / date of certification. We can provide replacement lenses any time after the initial 2-year cover period, for a total cost of $50 AUD plus shipping costs.
Ozeano will not repair or replace any product that is deemed to be damaged from a direct result of obvious stress to the the product or general wear and tear. It is up to the discretion of Ozeano, in all their capacity and knowledge, to decide the cause of a defect or break to Ozeano lenses.
For further information about our lens replacement offering, visit the 'Lens replacement' page.